Tag: Video Games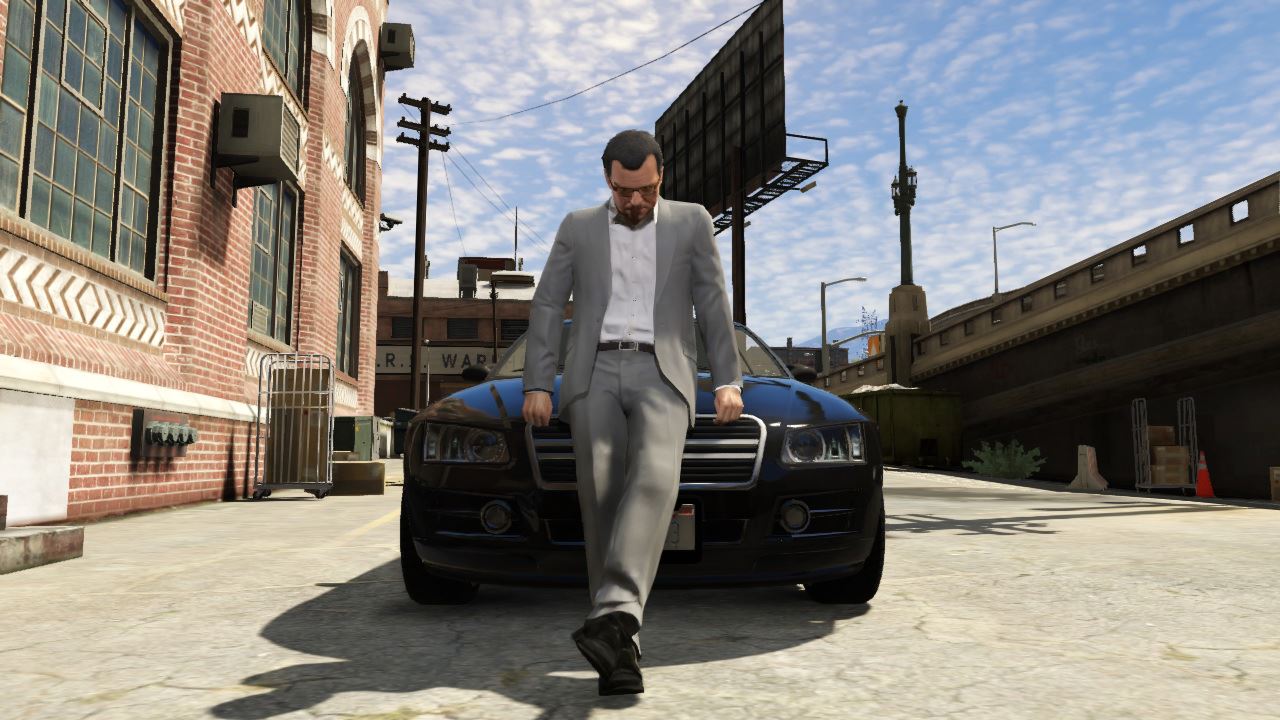 Grand Theft Auto 5 makes one of the most surprising self-commentaries I've encountered in a long time: the average person likes the violence in Grand Theft Auto because they're average.
For a long time, we – the ones who toil away spewing our best attempts at piercing commentary about interactive media on (relatively) narrowly read corners of the internet – have said, dismissively, that, "average people like the violence in the GTA series," but I don't think anyone has made the connection that the masses are drawn to GTA specifically because they feel faceless as part of the masses.
Yet that's exactly what the game itself postulates. Early on in the game, Grand Theft Auto 5 gives players an opportunity to visit a therapist as Michael, one of the protagonists in the game. The visit serves as a stage set up so Rockstar can give their best case for why they do what they do, or at least so they can take their best guess at why people seem to like it so much.
As Michael starts to go into why his life is going so bad, and some of the recent troubles he's had, his therapist rightly observes that Michael feels the … Read More »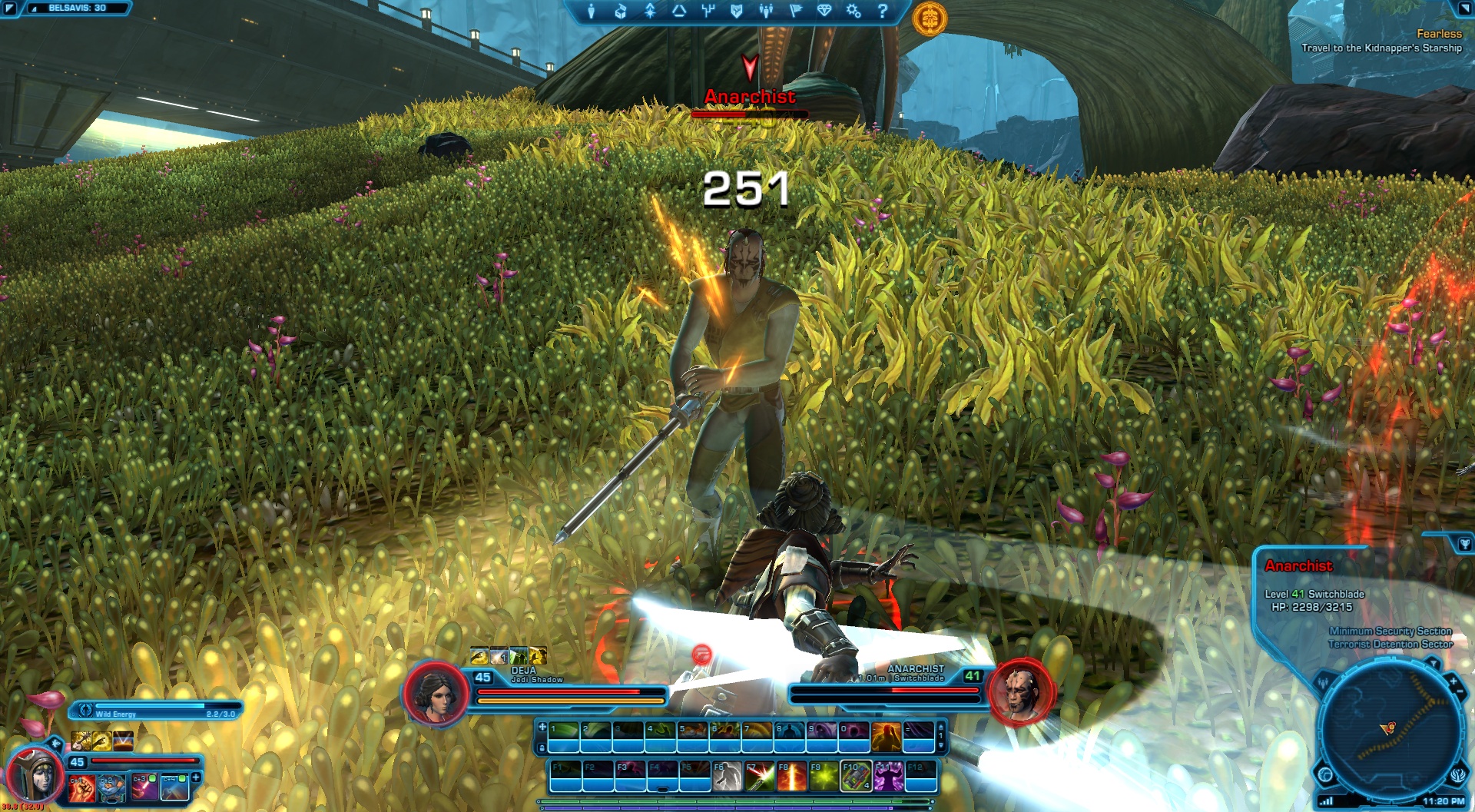 In Star Wars The Old Republic you kill "anarchists" a lot.
You kill lots of people actually. Even as a Jedi, part of an order established around the idea of peaceful interaction and force only as a means of defense, you're asked to slaughter droves of people. In many instances that violence is contextualized; often it's represented as a part of righting a wrong, rescuing or defending innocents, or otherwise justified.
The mission is often contextualized, but enemies mostly aren't. There are bosses, main antagonists that participate in driving the action of the story throughout a quest, chapter, or the entire class storyline for your character. They have some depth, and backstory. They have motivations that are explored; they can be reasoned with. But there are also scores of low level enemies littered along the path to the adversaries that have proper names and backstories.
Depending on your faction – Republic or Imperial – you'll battle a mixture of different enemy types. But both factions in the game tend to fight a lot of generic enemies labeled something like "thug" or "White Maw Pirate" – something that clearly indicates they are a threat to you regardless of whether … Read More »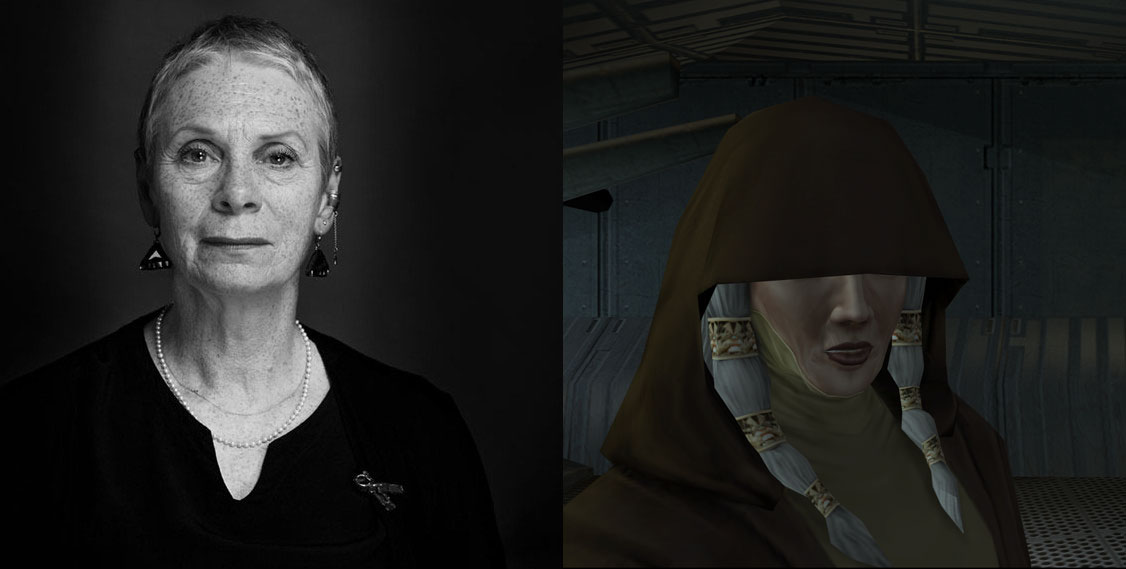 This is an article about acting. If you'd like to start by watching a bit from the performance being discussed, before reading, skip to the bottom of the page, just after the header "TL;DR" for a video.
One of my favorite performances ever was given by Sara Kestelman, in Knights of the Old Republic II: The Sith Lords. She played Kreia, a sage steeped in the twilight who was neither Jedi nor Sith, but a teacher of both the Light and Dark sides of the Force.
Kestelman's performance as Kreia is so memorable it wipes away arbitrary divisions that try to dissect a single art form. She acts so well her acting defies labels like "voice over acting" and "video game acting" and is only rightly described by more relevant terms – compelling acting, believable acting, thought provoking acting.
The character of Kreia is morally ambiguous, and her dialogue sharply written. That's compelling on it's own, but Kestelman's performance is mesmerizing. Her delivery is unerringly subtle; even her directness has undertone. She's unnerving at times, comforting at others. There's a distance in her voice that makes her sound almost hollow, but a conviction that leaves a … Read More »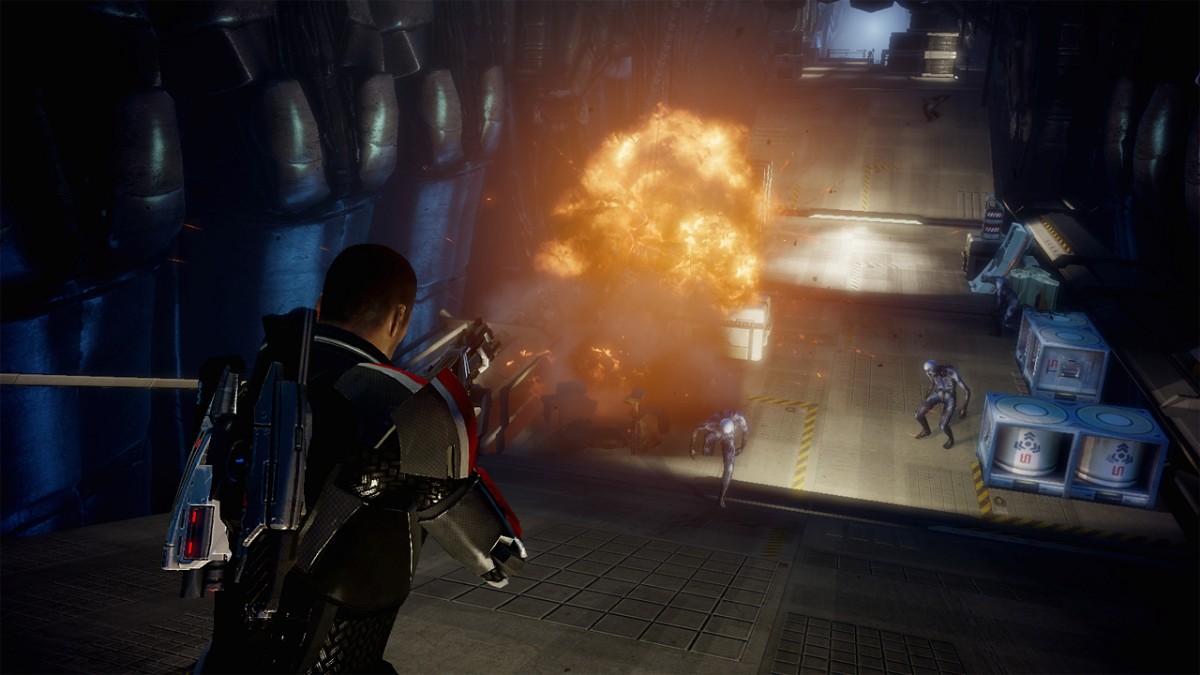 Mass Effect 2 changed everything. It was the action that did it — the shooting. It wasn't just the emphasis on it, but the polish of it. It didn't just change the series, it was part of a rapid tidal wave that reshaped the RPG genre.
And I liked it.
Some people didn't like it. They lamented the change from older Bioware games like Baldur's Gate, Neverwinter Nights, and Knights of the Old Republic. Even the original Mass Effect focused more on character build, weapon customization, and party arrangement. And those stats that were crunched under the hood had more to do with your result in combat than your proficiency with aim and reflex.
In a small way, I lamented that change also.
I liked the older style western RPGs. In addition to the Bioware titles I just mentioned, I liked Knights of the Old Republic II, Jade Empire, Fallout 1 & 2, and even Morrowind to some extent. There was something other than the action-reaction loop of downing enemies in those games that made them compelling. Trying to explore their particular charms would take several articles. But suffice it to say their time is now gone, and … Read More »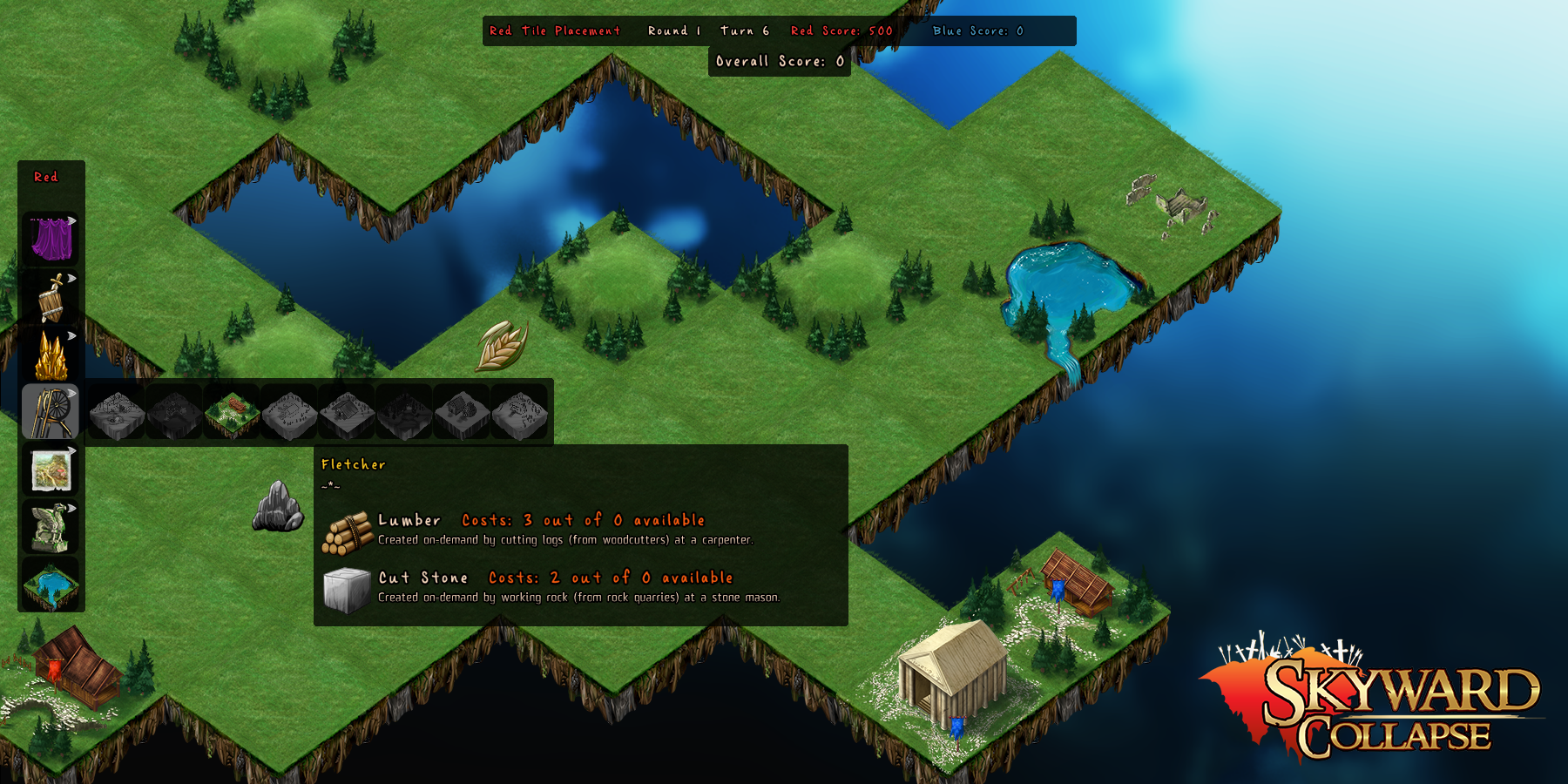 Back in 2010, Arcen Games founder Chris Park told me it might be five years before the studio returned to the strategy genre that put them on the map with their first title — A.I. War. This past week Arcen announced their return to the strategy genre with Skyward Collapse, a title that's shaping up to be vastly different than A.I War.
Skyward Collapse is a 4X god-game in which you attempt to balance two warring factions, supporting both sides to maximize their war efforts without allowing an imbalance that leads to the total annihilation of either faction.
Your score in the game is going to be based on the lowest of the two factions, so keeping them within a tight range of each other is necessary to avoid losing, but achieving a high score means having to ratchet up each side's war effort.
Peacekeeping isn't the goal. Your goal in the game is to keep both factions going successfully in a war that neither of them can win. The goal is war, big time war, just as long as it isn't the kind that leaves one side in ruins. The strange juxtaposition is that of carnage with … Read More »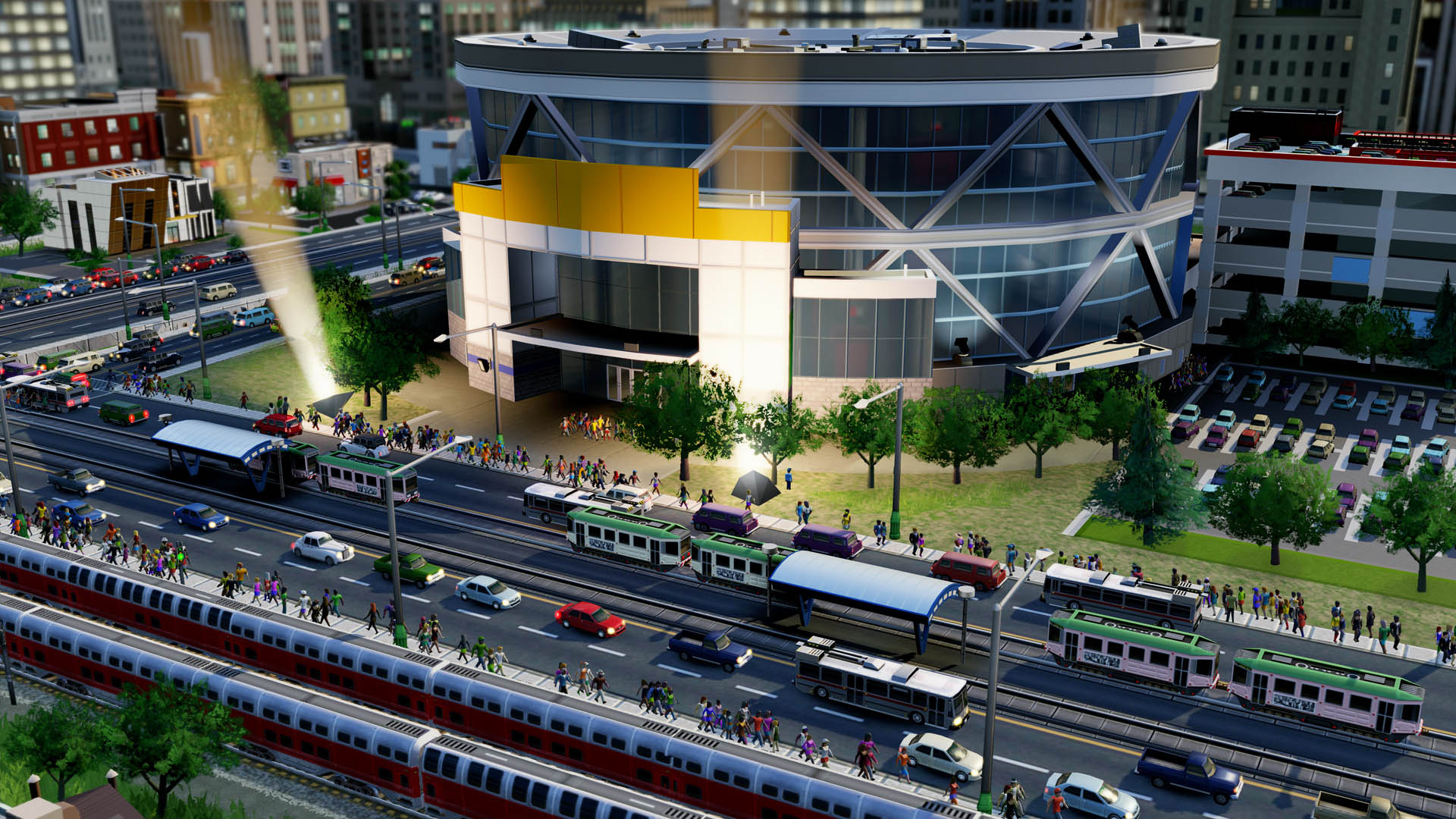 SimCity promotes risk taking. It's not any less focused on risk than, say, Bioshock: Infinite or any other first-person shooter. It's colored differently, the mechanics are obviously of an entirely different nature, but the elementary observations about what drives the games forward are the same.
I'm touching on this because of a misconception I carried in with me to play SimCity for the first time a few weeks ago. Delighted at the simulation and strategy involved in this city building (and managing) game, I exclaimed to myself how wonderful it was to be playing something free of all the shooting, bravado, and reckless daring seen ad nauseum in most triple-A titles. I told myself I was playing a game about methodical actions, and gauged responses. And while undeniably the level of strategy in the game outweighs most others, my compulsion to play SimCity is based on elements that likewise drive my desire to play most other games — even (especially) the shooting ones.
Actions drive the experience forward. Inaction, while part of the process in SimCity, isn't nearly as prized as taking some sort of action. There's a myriad of actions you can take in the game, but … Read More »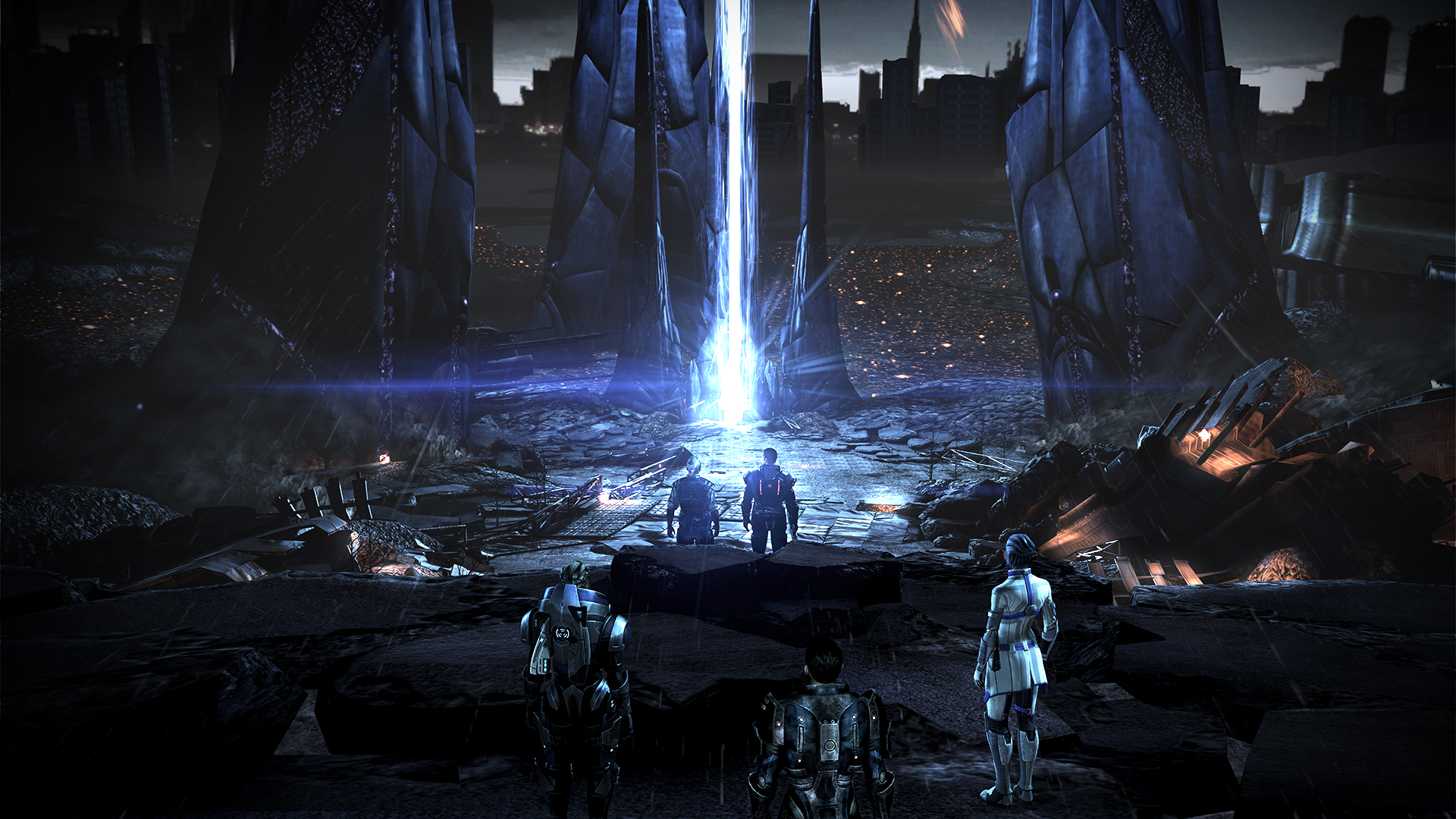 "Science fiction plucks from within us our deepest fears and hopes then shows them to us in rough disguise: the monster and the rocket."
— W.H. Auden
Cthulhu never speaks.
It has a language, but it never speaks. That's important. Amongst all the garish features of H.P. Lovecraft's most well known alien monster — one of the Great Old Ones from Lovecraftian lore — one of the most telling is Cthulhu's silence.
R'lyehian is the language of Cthulhu and the Great Old Ones. It's referenced in Lovecraft's "The Call of Cthulhu" in written form, and although it's believed no human could comprehend the language if it were spoken by one of the Great Old Ones, that Cthulhu has a language is proof its silence is deliberate. Cthulhu can speak, but it doesn't.
This is the problem with the Mass Effect 3 ending.
There's a lot that makes the ME3 ending uncompelling, but this is the core of it all. All the other problems stem from this, and it started as far back as the original Mass Effect.
There's a lot that's been said and written about the ending of this trilogy; a vast majority of the complaints are … Read More »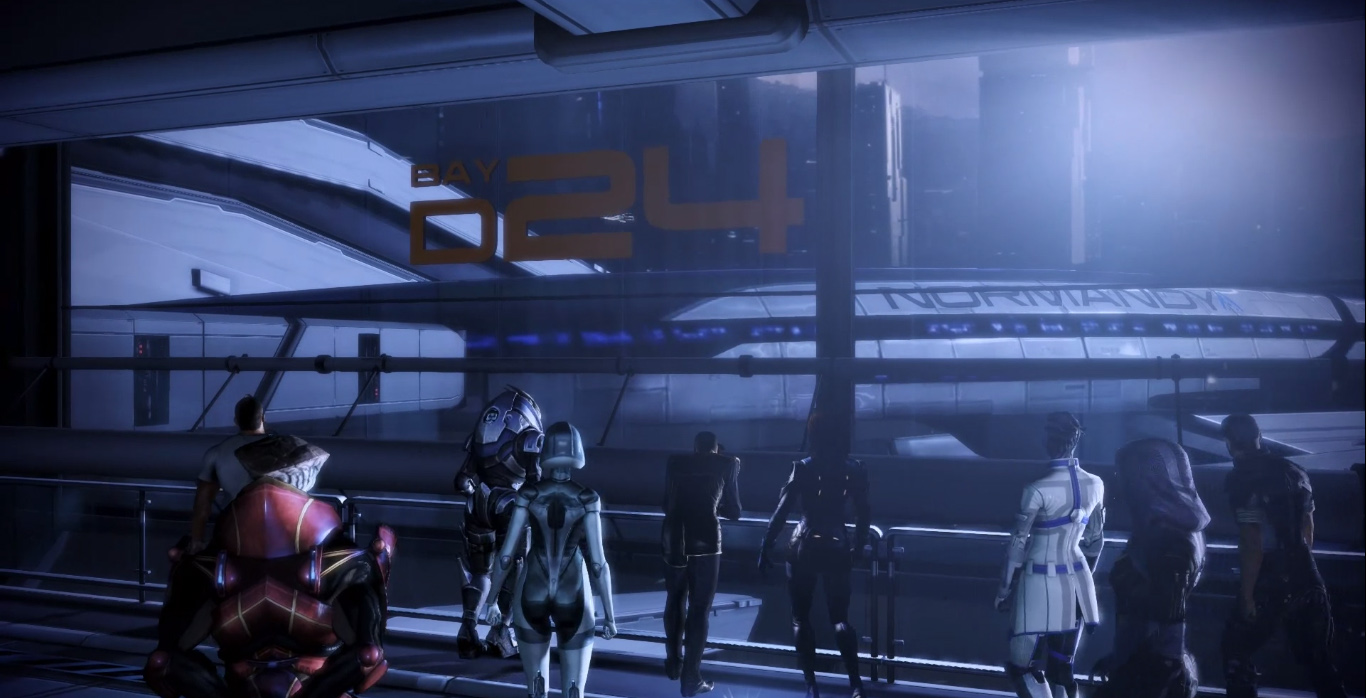 This is the last time that you'll ever lose someone / after this it's you and your friends / it's you and your friends
I have a theory about the end of Mass Effect 3.
Not a serious theory, mind you. A crazy theory, the kind even I don't take seriously, but find it fun to think about.
Essentially, it's that everything in the Citadel DLC is not preceding the final events of the campaign but that it follows them.
Mostly, Shepard dies at the end of Mass Effect 3 (with one exception), which isn't problematic for my theory — it's actually essential to it.
Essentially my theory is that Shepard does die in the final moments of ME3's campaign, and the events of Citadel are a kind of afterlife.
The lyric at the top of this article is from a song by Stars called "The Last Song Ever Written". It's a poetic, beautiful take on death. It's also a comforting take on death, that sees it as a final separation before an eternal joining.
It's purely conjecture on my part, but it was sparked by something in the DLC. On the Silversun Strip, the area of the Citadel in … Read More »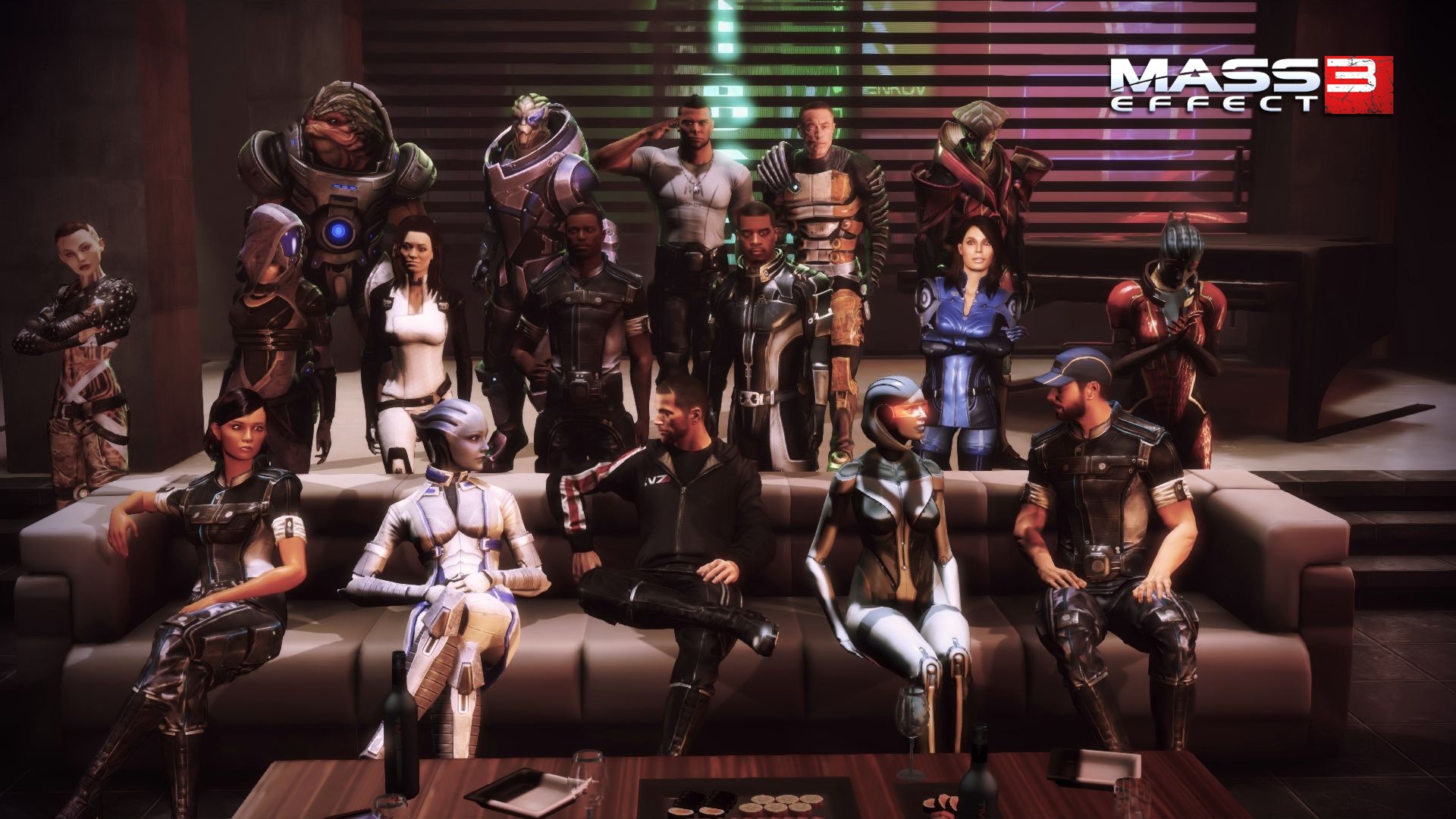 "There a lot of problems we have that are not solved. And these problems are usually  basic things like, 'I want to be feeling comfortable. I want to somehow be  feeling that my family loves me.' These are real problems.
"The idea of having more technology solving this idea of hyperactive lifestyle is not really the mainstream problem. I think the real innovation that's going to be rewarded will be on things like, let's convert our computers from being tools to being companions. Let's convert our computers from being utilitarian to being enlightening. These are human needs."
– Horace Dediu, on This Week in Tech episode 395
The End
We're going to start with the end. That's important to note. The end teaches us the most about the Mass Effect series, gives us the most useful perspective. There will be spoilers throughout this series, and when we're done we'll be at the beginning more or less.
'Let us sit a while'
Near the end of Mass Effect 3: Citadel, I got a chance to sit down with Samara, a nearly millennia old asari Justicar. Samara had been part of my crew for most of my mission against the … Read More »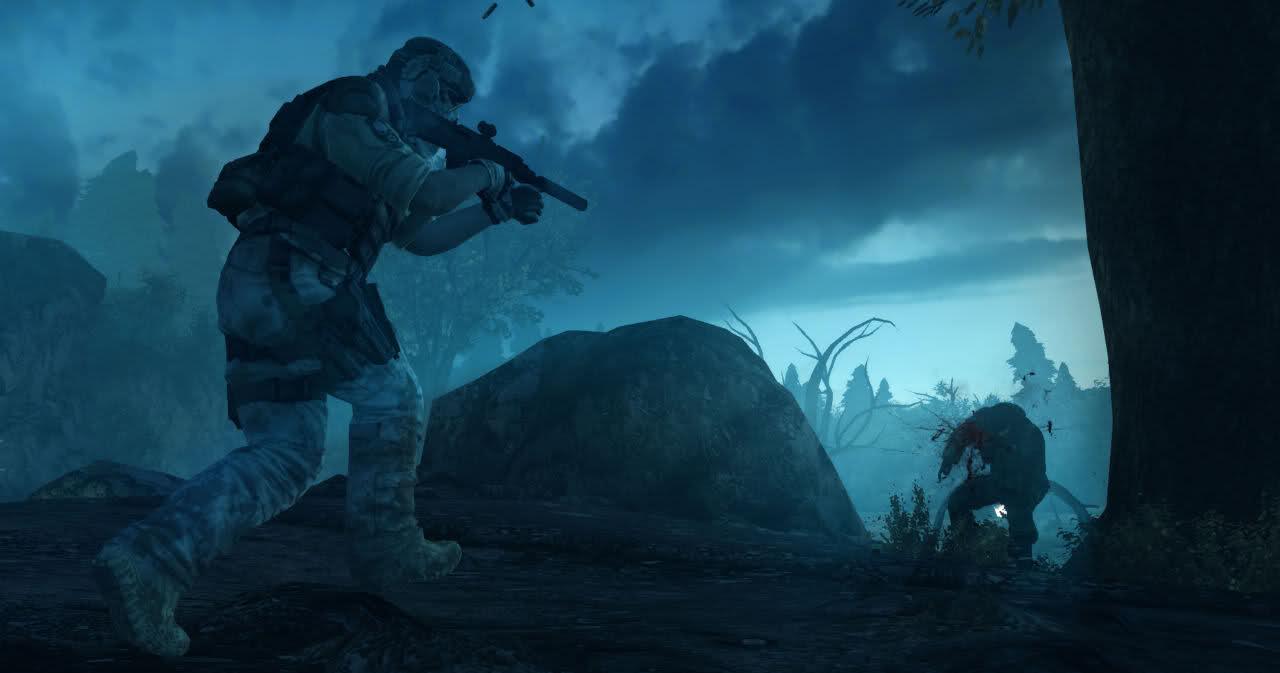 The Rifleman's creed was written during World War II, in either 1941 or 1942. The exact date of its origin is unknown. It was written by Major General William H. Rupertus, of the United States Marine Corps.
It's meant to instill in marine recruits the idea that they are one with their rifle, that they are dependant on it, and it on them. It espouses the idea of lending affection to a weapon, and not just any weapon, but your weapon.
In the United States Marine Corps, it is still used in recruit training to this day. The full text of the creed is below:
This is my rifle. There are many like it, but this one is mine.
My rifle is my best friend. It is my life. I must master it as I must master my life.
My rifle, without me, is useless. Without my rifle, I am useless. I must fire my rifle true. I must shoot straighter than my enemy who is trying to kill me. I must shoot him before he shoots me. I will…
My rifle and myself know that what counts in this war is not the rounds we fire, the noise … Read More »
---