Interview: Baseline Bums
---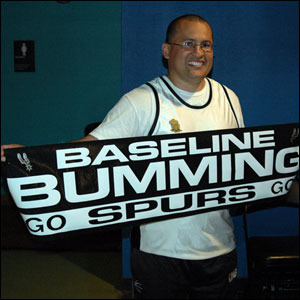 Originally appeared on ProjectSpurs.com
The Baseline Bums are a group of well known, rowdy fans of the San Antonio Spurs. What sets them apart from the normal fervent collection of sports enthusiasts is their impact in the San Antonio community. As a piece for ProjectSpurs.com, I got a chance to interview Cynthia Yruegas, president of the Bums. I've included an excerpt of the interview here, but be a good link clicker and head over to PS to read the entire transcript.
Rivas: The Bums do a lot in the community, but is there a single community event/activity that you guys could single out as being a favorite?
Yruegas: Yes we are a community-oriented organization and while we do love all the activities and events we participate in, I would have to say that our annual coat and blanket drive is one of the Bum favorites.  Every year we collect gently used or new coats, new blankets, diapers and baby formula and donate to different charities which have included Seton Home, Alpha House, Any Baby Can, Fisher House and St. Peter/St. Joseph's.  I think the most rewarding part of this event is in the delivery of the items to the charities.  The thanks and appreciation the recipients show for what is donated is remarkable and motivates us to continue with the effort.  This years coat/blanket drive is scheduled to be held on Saturday, December 5th at the AT&T center.  Anyone who is interested in donating or would like more information can contact us through our website at BaselineBums.org.
Rivas: What do you think opposing teams think of you? Do you guys care?
---
---