The next strategy game from "A.I. War" Developer Arcen Games: Skyward Collapse
---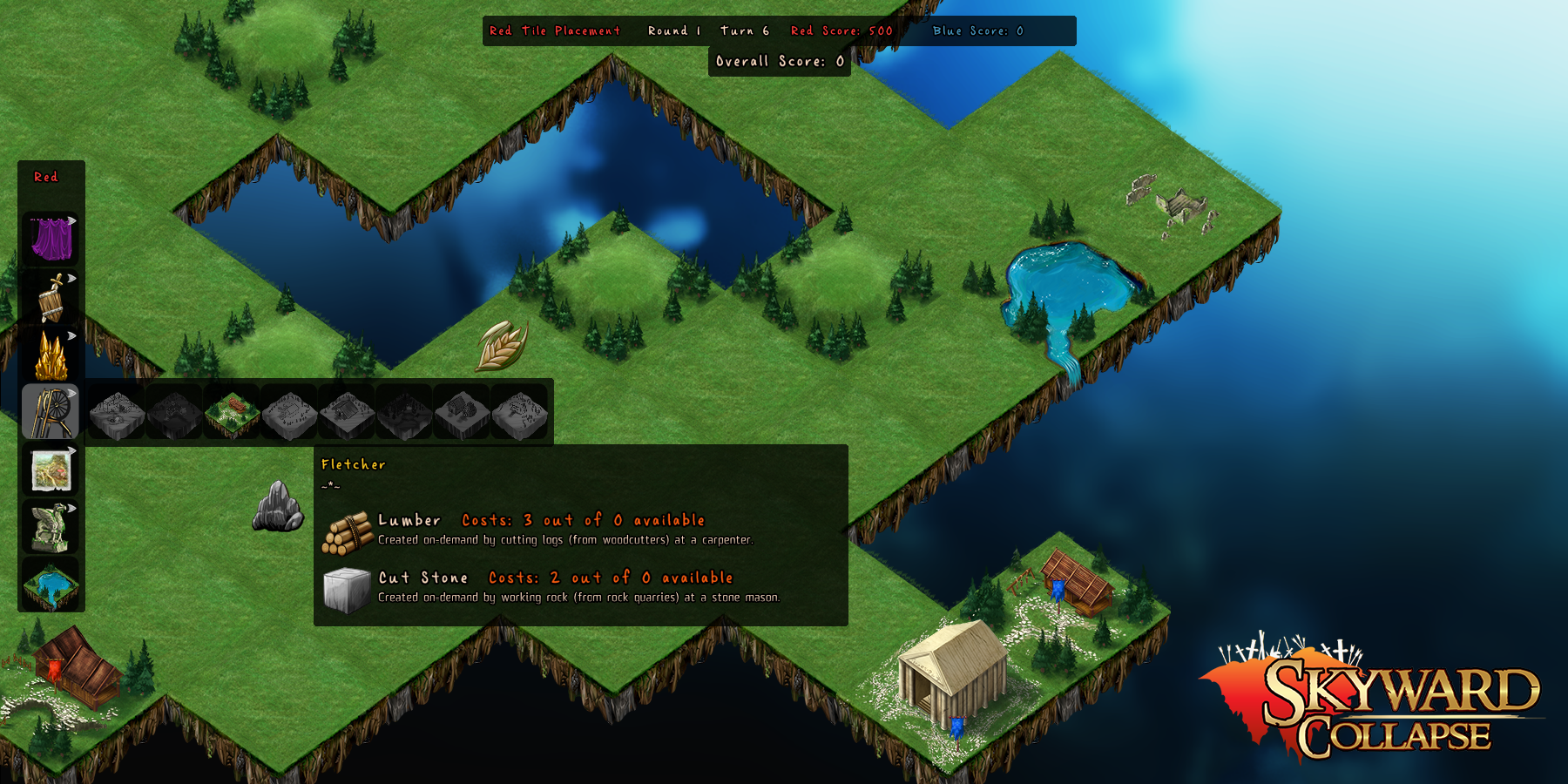 Back in 2010, Arcen Games founder Chris Park told me it might be five years before the studio returned to the strategy genre that put them on the map with their first title — A.I. War. This past week Arcen announced their return to the strategy genre with Skyward Collapse, a title that's shaping up to be vastly different than A.I War.
Skyward Collapse is a 4X god-game in which you attempt to balance two warring factions, supporting both sides to maximize their war efforts without allowing an imbalance that leads to the total annihilation of either faction.
Your score in the game is going to be based on the lowest of the two factions, so keeping them within a tight range of each other is necessary to avoid losing, but achieving a high score means having to ratchet up each side's war effort.
Peacekeeping isn't the goal. Your goal in the game is to keep both factions going successfully in a war that neither of them can win. The goal is war, big time war, just as long as it isn't the kind that leaves one side in ruins. The strange juxtaposition is that of carnage with some measure of restraint, and balance.
It's deceptively sinister if you look at it morally, counterintuitive logically, and potentially genius from a gameplay standpoint.
Arcen is calling it a 4X game, but doesn't seem quite right; extermination looks like the opposite of the objective in Skyward Collapse. It's an unusual exhortation towards balance. It's incentivizing a kind of "fairness" that seems directly at odds with the war in the more broad sense, but moreover with the traditional win conditions of most strategy games or games in general.
The core concept made me want to post on it, but it's too early to really delve into the implications. I imagine I might have something to say about the theme of perpetual war once the game comes out, but for now I just think it's a really peculiar concept that breaks a bit of the strategy mold.
Setting
An element that should soften the blow of a game that asks you to constantly keep people at war is the setting. Skyward Collapse is going to have a fantasy setting loosely based on Greek and Norse mythology. A game is structured over three rounds, with the second round introducing a choice of four lesser gods for each faction, and third round unlocks a choice of four greater gods per faction.
In a recent post, Chris Park cited Pan as one of the lesser gods and Zeus as one of the greater gods.  Chapman, arsonist, and berserker were some examples of regular units on the Norse side, but the word is that Norse and Greek will have be unique.
Art is being handled by Arcen's art director Blue and an external studio called Heavy Cat. Somehow my first thought was that the art style seemed slightly reminiscent of A Valley Without Wind, but after going back and looking at AVWW and A Valley Without Wind 2 these visuals for Skyward Collapse look like a marked improvement.
We should be seeing more of the game before the start of the beta later this month.
A few gameplay details
Economy and military will work in tandem like you'd expect. An example given is that the barracks will produce different units on an automated rotation, but that production of each unit is dependant on a specific resources. Since the barracks will skip whichever unit you don't have resources for, you can shape your economy to specialize in a kind of particular unit or alter the rotation by cultivating different resources at different times.
It seems like the kind deep strategy Arcen games are known for, but it's also being pitched as simple way to let newer players just have things run on auto if they don't want to delve into the more intricate strategies.
Apparently players will also be able to summon special mythological creatures like minotaurs or the midgard serpent to fight on either side, though these will require difficult to attain specialized resources.
Right now Arcen is looking at having 15 raw resources and 11 finished goods, apparently in addition to the aforementioned specialized resources.
Keeping busy
Arcen has already released two games in 2013 (Valley 2 and Shattered Haven), and it may end up releasing as many as five or six titles this year, not including expansions. They had just announced Exodus of the Machine in late March with a release window sometime in 2013. And Skyward Collapse doesn't seem at all like a small undertaking.
Right now Arcen is currently a staff of seven, which isn't terribly small for an indie studio, but they might almost release as many games as they have personnel in one year. Founder Chris Park is splitting time between their different projects, Arcen's popular composer Pablo Vega is composing across all projects, and likewise their art director is going between all projects.
When I asked Chris about the mindset behind getting so many projects off the ground at once, he basically explained that their strategy is to release several smaller projects, at a lower price for consumers, and see which ones gain the most traction. He cites A.I. War as something that didn't start off as a small project, but really didn't grow to the franchise it is now until they saw the above average success and started to move on expansions. Contrast that with the risk of putting in a lot of time and resources to a larger project that may not resonate.
"This is inherently lower-risk for us," writes Chris. "And provides a better baseline income. All our eggs aren't in one basket, to use another cliche."
He adds, "This also works out well for customers, as they get the baseline experience much less expensively, and they only need to buy extra content if they actually want it."
Of course Valley 2 was a major add on bestowed on Valley 1 owners for free. There have been constant updates to A.I. War, most of which customers don't pay for.
Then there comes the challenge of going through the launch process several times in a relatively short time frame. Chris says that can be tricky.
"The audience for even similar games is going to be subtly different, the marketplace is different even a few months later, the press are in different moods or have become interested or jaded about different things, expectations have shifted based on other recent releases, and so on."
Skyward Collapse is currently slated for a mid-2013 release. The initial response seems strong. Even those who didn't care for Arcen's ventures towards platforming "metrovania" style games in Valley 1 and 2 seem excited for the return to strategy. A beta is expected later this month.
---
---