This is a post about Call of Duty, Ego, and Pumping Iron
---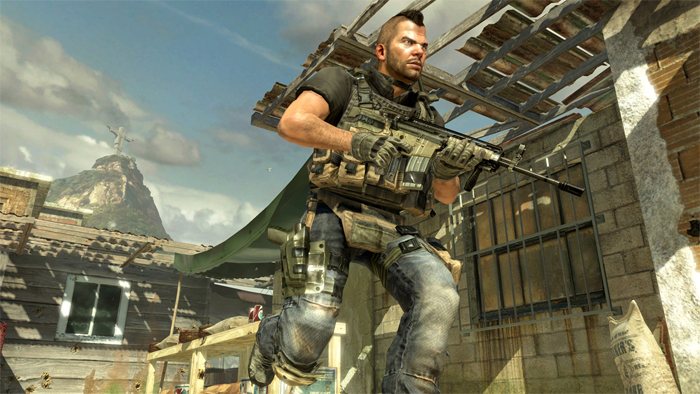 There is a person who's half downed a Monster XXL, is sitting in a beanbag, with a pair of Triton's on, and their eyes are bloodshot. They're playing Call of Duty and they're good at it.
There is another person who's doubled up on their creatine monohydrate and whey protein, hit a couple of magnesium pills, and every muscle in their body looks ready to burst out of them as they squat twice their weight. They're working out, and they're good at it.
These two people have something in common, and it's that they're both feeding their ego.
They aren't often associated with each other because their methods are so different. Nevertheless, the motivation, payoff, and psychological drive is similar. I'm not directly comparable to either of them, but I'm similar enough to each of them that I can share some insight with you.
I work out everyday. I like to do it. It makes me feel good, it gives me energy, and I like the challenge. It's not that I don't ever struggle to get started (I do), but I enjoy having such a disciplined area of my life.
Four days a week I do free weights (on "off days" I do intensive cardio). I don't lift to get big; I lift to stay in shape, have energy, and not feel like a wuss if I have to pick up something reasonably heavy. Over the past few months, I've really focused to make lifting a part of my routine.
I've been physically active my whole life, and grew up playing sports, but I'm not a huge guy, and I've never associated myself (physically or otherwise) with the kinds of guys people picture when they imagine someone lifting weights.
I've also played a number of first person shooters, mostly Halo. During a stretch between 2005 and 2007, I played Halo 2 everyday without fail, and I was pretty damn good at it. I never got into Call of Duty as much, but I did play CoD4 and I got to be decent at it.
I wanted to get good at Call of Duty, and then I wanted to get better. But I never got as good as I wanted, and nothing approaching my proficiency in Halo 2. As I started working more, and writing more, time in huge chunks spent on gaming was less easy to come by. I realized I could never be as good at Call of Duty as I was at Halo 2 if I only played CoD every now and then.
It had taken time to get good at Halo, lots of time. It took work. Sure it was fun, but at one point I remember loading up an empty map (Sanctuary, if I'm not mistaken), and practicing with every single weapon in the game, getting a feel for the recoil, shooting on the move, snapping from one target to the next in rapid succession. And I played everyday, even when I didn't feel like it. I played a videogame even when I didn't feel like it because I wanted to be good at it.
There are people now who play competitive multiplayer games, chief among them being Call of Duty games, with a similar mindset. They aren't just playing to have fun, they're playing to be competitive — to be the best. It's not just a game, it's a discipline. And in pursuing their goals, they're likely to play too much, sleep too little, and poorly balance their habit with everything else.
Their counterpart, the workout addict, is similar. They aren't just working out to stay in shape anymore, they've committed to a constantly moving goal of getting bigger, and bigger, and bigger (or less body fat, less body fat, less body fat, etc). In the process they will incur injury, probably assume an unbalanced diet at some point, and start taking supplements that are either unnecessary or unhealthy for them.
What's driving them both is challenge, some kind of acknowledgement of the challenge they're besting, and ultimately ego.
I think it starts off as confidence. There's a certain amount of confidence that comes from doing something tedious and hard, day in and day out, successfully. When you're working out, you realize it's willpower, not muscle strength, that gets you to power through that last set. And when you learn to bring that willpower to bear day after day, you start to accumulate a certain amount of pride not so much in the new muscle mass you're building, but in the mindset that allows you to physically punish yourself every day and not blink.

The ego of the bodybuilder has less to do with his or her physique and more to do with what they know about their discipline that you likely take for granted. It's that they know what's really being built up is the mental toughness, and that's what gets them back to the gym the next day.
The veterans of any multiplayer game carry the same kind pride. It's not just their reflexes or their knowledge of maps and weapons, it's that they're "dailies" and we're part of the "every now and then" crowd. What we come to casually, they come to with commitment. They dismiss us for the same reasons the workout addict dismisses all the new signups at the gym on January 1.
But part of maintaining that ego is challenge and lots of it. In my own workouts, I buy into the mantra that it has to be hard. If you're workout isn't hard, you aren't doing it right. Easy workouts are an oxymoron and a waste of time.
But it's one thing to push yourself to your limit, it's another to constantly be gauging what that limit is as you get stronger. You have to constantly reassess to make sure you're getting the most challenge possible.
When a certain weight on any given exercise becomes too easy, you should up the weight, and take on a weight that you can just barely finish your sets on. Essentially, you should take on a weight that gives you the challenge you had when you first started.
It's what CoD players do when they Prestige — they reset all their weapons, equipment, and perks so they're back to square one, emulating the challenge of starting for the first time. They'll work their way back up, then reset again to maintain the challenge. People who don't Prestige are looked down upon in the community. Because if it isn't hard, you aren't doing it right.
That's where the ego comes from. It isn't really from the kill-death-ratio or the weight someone bench presses — it's from the knowledge that they do something hard everyday, and they probably both feel like the world at large dismisses their challenge as superfluous.
I've rarely included myself among a hardcore competitive gaming community, and I've never seen myself as part of the avid workout crowd, but I've done enough of both to see the similarities and empathize with the motivations.
I'm not really trying to make a certain weight, or look a certain way, but I work out diligently because I'm committed to coming back into that space, mentally and physically, everyday. It's not so much about the results (though they can be positive), as it is about the discipline involved in the pursuit.
When I think about the daily Call of Duty player I wonder if it's not a similar mindset. Perhaps it's not about the stats, the wins, or the unlocks but about a certain kind of pride that comes with being able to say, "I come to this space everyday, even when I don't feel like it, and I'm good at it."
As for what that does to their respective dispositions, it seems ego becomes the negative side effect. How to remove that ego, or prevent it from developing at all, is a harder issue.
For me, in gaming and in physical fitness, it doesn't take long for me to realize how pedestrian I am. There's nothing for me to brag about on either front, but I continue to pursue the challenge regardless. The point isn't catching it, it's to keep moving.
---
---
4 Responses to "This is a post about Call of Duty, Ego, and Pumping Iron"