This is a post about Dishonored, Monarchies, and Non-lethality
---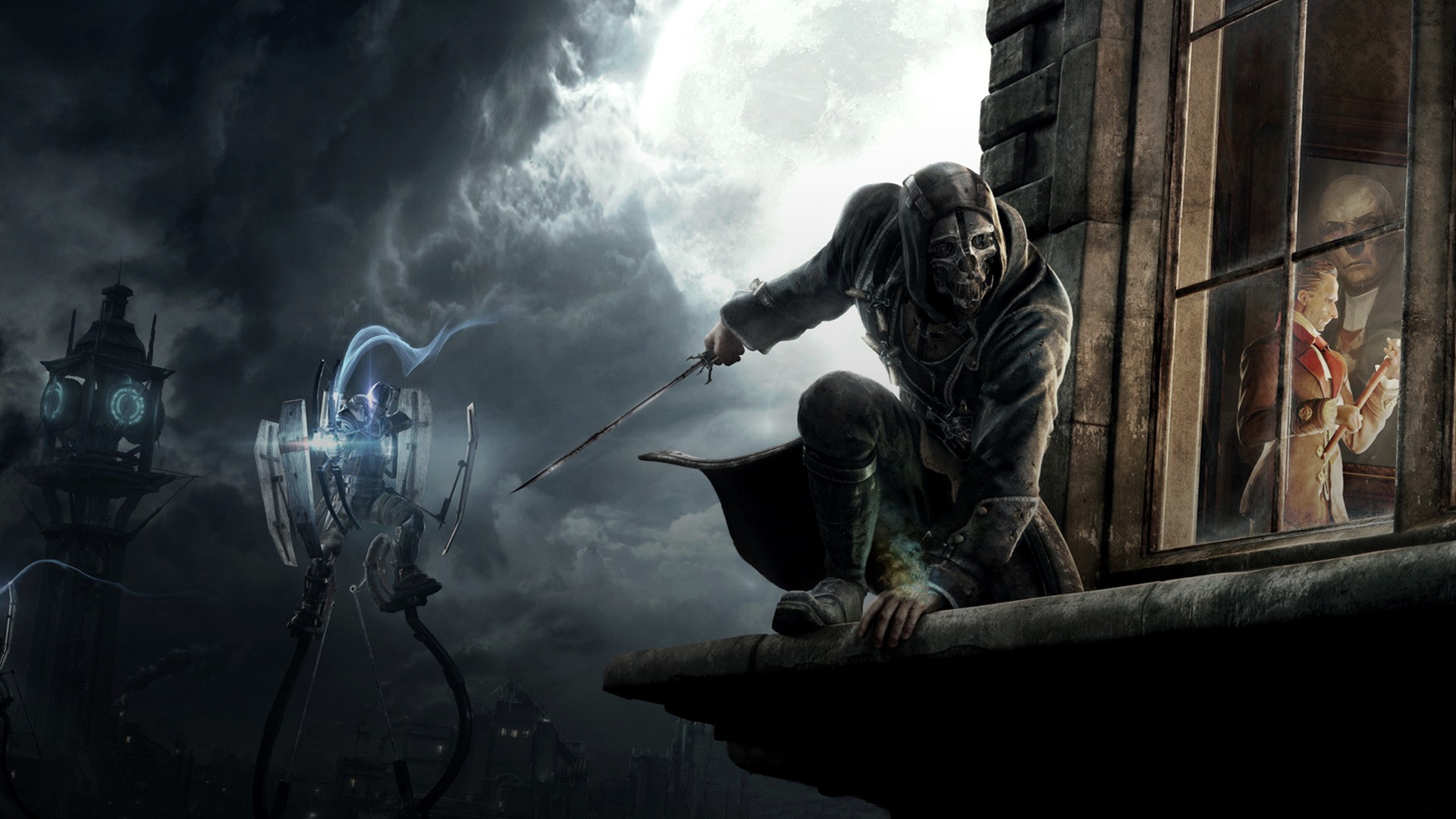 Spoilers ahead. Thanks for reading.
Corvo Attano, the protagonist of Dishonored, is not a good guy — but I tried to make him one. I've always tried to play characters honestly. I enjoy stories, and whether a game is labeled role-playing or not, I require honesty in order to be fully immersed.
Because video games allow agency within story and characters, I bare some of the responsibility for ensuring honesty in the narrative. I have some control over how Corvo behaves, and in Dishonored I also have some control over how the story concludes. That's why when I started playing Dishonored, I was determined to choose non-lethality whenever possible.
I surmised that as a bodyguard, Corvo would value life enough to avoid killing whenever possible, and only kill with no other alternative. That was the premise, but it  fell away quickly, replaced by something more concrete, but subtle.
I realized Corvo is not a "good guy", and that the cast of Dishonored is mostly deficient of virtuous characters. This makes the fiction more authentic, cynical; it makes the characters less sympathetic. It disrupted my motivations as a player, and my ability to relate to Corvo.

I ascertained I was about half way through the game and concluded that I wasn't sympathetic to either side in the struggle for Dunwall. I wasn't sympathetic to any side, except that of the oppressed and plagued people of the city.
Why a monarchy?
At the beginning of the game, Dunwall is part of an island called Gristol, ruled by an Empress named Jessamine Kaldwin. Dunwall is under a monarchy.

At the game's opening, Jessamine's former Spymaster conspires against her, has her assassinated, and becomes Lord Regent because Jessamine's daughter Emily is not of age to rule.
Jessamine is portrayed as having concern for "her people". Her assassination, tragic of itself, is meant to signify some greater loss for a people that were lorded over before, and at the loss of a supposedly benevolent ruler, will be lorded over anyway.
As I played the opening sequence, I tried to attach myself to Emily and Jessamine on a personal level. In that respect, it was easy to be sympathetic to a child that witnesses her mother killed in bloody fashion. The politics and power structure aside, that is tragic.
But as the story progressed, I found myself hard pressed to be at all concerned with bringing to justice usurpers of the throne in order to, of all things, place someone else on the throne. Wouldn't the people of Dunwall and Gristol prefer a form of representative government as oppose to whatever self important opportunist, or highly fortunate royalty, wished to rule over them?

Nevermind whether that person is benevolent or not, I realized I was fighting, and in some cases killing, to replace one concentrated power source with another concentrated power source and passing it off as liberation.
This soured my taste for lethal means even further. I held that Corvo would support the idea that those who plot assassination should be brought to justice, but the idea of murdering in droves to return a monarchical family line to power seemed far less motivating to me.

The things I did as Corvo in the name of rescuing and restoring young empress Emily to power alarmed me. I wanted to see Corvo as a good guy, even playing as non-lethal as possible, but I was forced to do heinous things to achieve loyalist goals.
At one point it is deemed necessary to remove the Lord Regent's mistress, Lady Boyle. Wanting to avoid murder, I explored to find the non-lethal option for the mission. I discovered that it included incapacitating Lady Boyle, and delivering her to an admirer whose affection for Lady Boyle had been secret, and unrequited.
My only alternative to killing Lady Boyle was to carry her, unconscious, onto a boat in the dead of night, and deliver her to a man obsessed with her, that has done all of promising to treat her kindly. I can think of few things more criminal, morally reprehensible and demeaning to women.
No matter what assurances this masked admirer gave me, I couldn't help but feel I was putting a woman in considerable danger, potentially to the point of being sexually assaulted. However much that's paranoia or over sensitivity on my part, I'm not certain, but the feeling was all at once not a good one. I didn't feel heroic, and I didn't feel any justification for taking the non-lethal option.
To the point I've played, all the non-lethal options are similarly harsh. A few missions in, I've committed torture and kidnapping, been an accessory to slavery, and potentially to rape.
All in the name of the empress.
Dishonored is a quasi-period piece set in an era similar to the late 19th century, and modeled after cities like London. I understand the motif of monarchy within that setting, but I felt that half way through the game it had been exploited predictably.

Moreover a feeling persisted that gnawed at me. This city and island started under rule of monarchy, were taken control of by a totalitarian regent, and are being fought for by loyalists who wish to put another monarch in power. Somehow a theme of the game is supposed to be freeing the city. Yet all three of those states seemed the same to me except for the promise of certain monarchs being nice about holding all the power.
And all the while, even trying to be avoid needless violence, I was having to do heinous things to bring back this monarchy.

Predictable but novel
I haven't finished Dishonored yet. The last mission I played is where Corvo kidnaps or kills Lady Boyle. I was initially going to write this post about the parts of the game I've played so far.
But I cheated. I looked up the remainder of the plot, because I was curious if there would be contradictions to my assertions in the latter part of the story. I'm telling you this now because, remarkably, my feelings about the loyalists in Dishonored turned out to be exactly correct.
Admiral Havelock, an ally in the early part of the game and de facto leader of the loyalists, turns out to be as hungry for power as the Lord Regent, and similarly only wants to use Emily in order to attain control of the region.
This isn't novel in and of itself (it's actually predictable, as I had unsympathetic feelings towards the loyalists all along) — but the honest portrayal of this kind of power struggle is unique.
Control of a region being contended for by a few central figures is not rare in history, and there are few good guys in that kind of struggle. But it isn't always portrayed that way.
In the first part of the game we play the traditional narrative of picking a side and fighting for one person or small group to attain power. But when Havelock is revealed to be as dangerous as the Lord Regent, we see a kind of honesty about this political power structure that isn't often depicted in games. It is, however, short lived.
In the end, even after dealing with Havelock, a monarch does take the throne. Emily returns as empress, and depending on the player's level of chaos (caused by assassinations, random killings, and other high profile actions) they get a lighter, happier ending, or darker, bleaker ending.
It isn't as poignant an ending as I'd hoped for, at least in summary. I'm eager to finish the game and see for myself, but it seems like Dishonored only offers a partial warning about centralized power. It's better than nothing, and the reversal seen in your relationship with Havelock is a valuable lesson for players more accustomed to the traditional dichotomy of good guys and bad guys in games.
But unfortunately Dishonored holds onto the naive assumption seen so often in narrative that monarchs and centralized power are good things as long as those in power promise to be nice.
Promise to be nice…
I kidnapped a woman and put her on a boat with a strange man that she'd previously shown no desire to be with. I branded a man on the forehead. I condemned two men to harsh slavery, and mutilation. If they committed crimes, I'd like to believe Corvo would be in favor of punishment. Maybe a trial would have been more appropriate.

Oh but of course, this is war, and all for her majesty and what not. Cruelty is exhibited, horrors are committed, then justified as more merciful than a swift death. All in the name of someone on a throne.
As long as they promise to be nice.
---
---
12 responses to "This is a post about Dishonored, Monarchies, and Non-lethality"