Whatever happened to the swordsman named Soul?
---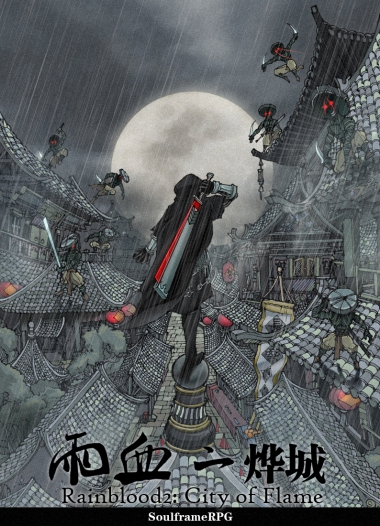 Whatever happened to Rainblood 2: City of Flame?
That's the question I found myself asking. For months, we had no answer. An indie game, and an indie developer, had gone completely missing.
Rainblood: Town of Death, was originally released in China during 2007 and an English translation in 2010. It's developed by a Chinese indie dev named Qiwei Liang. I did a review of the English translation version in September of 2010, but by that time a sequel was already in the works.
The sequel, City of Flame, didn't hit my radar until the early part of 2011. The first images I saw were impressive. A five and a half minute trailer showcased an updated art style, new side-scrolling view, and combat that was improved over an already robust "wuxia style" inspired combat system of the original.
I contacted Qiwei then, and got a response. He said the game would be releasing in China during Summer of 2011, at which time an English demo would release, and the full English version a few months after that.
I never heard anything about it after that. Summer came and went. By late 2011, I had taken hiatus from writing on this blog. I still had a mild curiosity about what had happened with the title, but my last attempt at contact with Liang (who goes by the handle of Soulframe, the name all his games are credited to) was in May, and went unresponded to. I never thought about it again.
Until recently. I wanted to look for some indie titles to play and review, and I gravitated towards familiar territory. I was certain that whatever delays may have arisen in 2011, by now they'd have certainly been resolved, and the game released. But I couldn't find a trace of the game or Qiwei Liang online.
The developer's website — soulframe-rpg.com — is entirely inactive. The Facebook page for Rainblood is abandoned with reactions like this left in frustration:
What I've found out
From what I've been able to learn, the domestic version of the game did release. After writing a first draft of this post a few days ago, I finally got a response from Qiwei. He confirmed Rainblood 2 did release in 2011 for the Chinese market, and an English translation was still being worked on.
But there's been no news of any of this on English sites. The closest we got is a tweet from Qiwei on February 24, 2012:
"Rainblood2:City of Flame is ready to go! The translation is all done!"
But nothing after that. And according to my current exchange with Qiwei, the English version is still not done. "Yes there is some delay but it is almost there. We are doing a final revision and then it will depend on the distributor's process," Qiwei wrote in an email to me recently.
In addition to the PC version coming out this year, I was also able to confirm Rainblood: Town of Death and City of Flame are both being developed for iOS. The website for the series is down as it's being redesigned and should be back up in time to run promotion for the iOS releases. The iOS versions should be out "very soon" – as early as October.
Rainblood: Mirage
In January 2011, a Rainblood prequel was promised. The title provided was Rainblood: Mirage — and if you've been paying attention to this site, you've already seen the trailer.
Qiwei has started a development company called S-Game Entertainment, comprised of 10 people working on Mirage with him. Bo Caisheng will reprise his role as composer on the series, and Aimsound Studio will be handling sound effects on Mirage. Qiwei has expressed optimism about the group he's put together, as well as the move to a new game engine.
Mirage will be developed with the Unity engine. The first two Rainblood titles were made using the consumer game creation software RPG Maker XP which Qiwei has noted as having "a lot of limitations," but also that they were able to break a lot of borders and push the limits of what was possible with RPG Maker.
Unlike the first two Rainblood games, Mirage is being produced in English. Mirage will be available through XBLA and PSN, in addition to being on PC and iOS. It's expected to release in early 2013.
What happened?
While it's good to know this game will be released in English, and that the series continues, for a while there this game disappeared. Qiwei disappeared. I'd never seen anything like it.

Certainly, amateur developers post intent to ship a game and then fail to follow through, but Rainblood 2 was no amateur product. This was a commercial game. The first Rainblood — which sold for a modest $9.99 USD — sold 500,000 copies in China, according to Qiwei, and 20,000 in the US. That's quite the operation to just cease, even if it was only in the English speaking portion of the world.
Qiwei hasn't directly addressed what caused the delay, or why there wasn't more news about the English translation, but it's always been clear his highest priority was on the domestic release. He's said multiple times on his blog that the material and themes of Rainblood have cultural significance that don't necessarily translate to the English speaking audience, and that there's greater understanding of his work among the Chinese audience.
The series protagonist, a wandering swordsman named Soul, is similarly vague — appearing mysteriously, and moving on just as subtly. Thankfully, we'll get another helping of Soul and the Rainblood series this year.
You can find a trailer/dev diary for Rainblood 2: City of Flames below as well as a track from Rainblood 2, composed by Bo Caisheng.
---
---
5 responses to "Whatever happened to the swordsman named Soul?"