Mass Effect 2 N7 Hoodie Review
---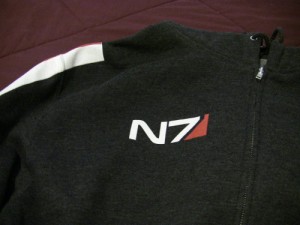 Possibly the most sought after hoodie in the geek/gamer world, the Mass Effect 2 N7 Armour Stripe Hoody lives up to the hype.
Following the spectacular commercial and critical success of Bioware's action RPG, Mass Effect 2, it's only natural to expect the gaming faithful to go get themselves some highly badass merchandise – especially when it's this badass.
For weeks after the release of 'ME2', this hoodie was sold out on Bioware's website. I was one of many who tried several times to buy one, only to be greeted harshly by the cold, unwavering pronunciation of "SOLD OUT" right as I was attempting to finalize the checkout process. Suffice it to say, lots of people want this hoodie.
After I finally got my order placed, I was surprised to receive the piece faster than I expected. I got the hoodie via the standard shipping option about a week after I placed my order. I think it's safe to say a majority of my childhood Christmas mornings didn't match my level of excitement as I tore through the plastic to finally get my hands on this thing.
As I expected it to be, this is a nice hoodie. According to the tag on the back this fine product was fashioned by the Independent Trading Company. I ordered a large and it's a perfect fit. It's made from 80% cotton and 20% polyester. It feels appropriately soft and high quality. It's got a soft fleece lining on the inside, and although today's weather (54 degrees) wouldn't provide much of a test, it feels like it would keep you pretty warm.
The N7 logo stamped on the chest is one of the simplest ways to make a hoodie infinitely cooler. Now that I own more than one piece of clothing with that emblem, I'm realizing the decision to make the N7 designation a key piece of marketing for ME2 was pure genius. The armor stripe – probably the biggest standout on the hoodie – is cool, but it does feel a bit… stickered on, for lack of a better term. Although practically, I expected as much. It still stands out in a good way and that strong red stripe down the left arm make for a powerful accent.
Pros
High quality material and build
Actually useful in cold weather
The coolest piece of Mass Effect 2 apparel in existence
Cons
The signature stripe on the left arm is passable, but doesn't feel as quality as the rest of the hoodie
Should you buy it?
Yes. Even if you're not a Mass Effect fans, this is a cool looking and dependable hoodie. I've been building up a pretty fine collection of hoodies, and I think this might have just taken the number one spot (yes, even cooler than my Digg hoodie). If you're a Mass Effect fan, you had better already own one. If not, go buy one. Now. Quick, before they sell out again.
---
---
4 responses to "Mass Effect 2 N7 Hoodie Review"