Interview w/ Stream dev team
---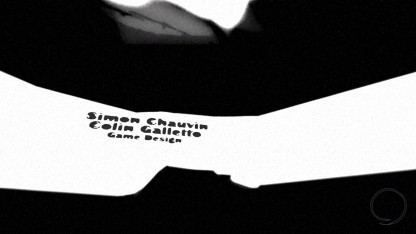 I recently got a chance to bounce some questions off of the team that developed the first-person platformer puzzle game, Stream. Designer Simon Chauvin fielded the questions on behalf of the team and relayed the group's sentiments back to me. I found Stream to be an interesting, stark, but visually compelling and a well designed short game. You can find my full review here.
It's a brief interview that touches on some of the process behind designing the game and some of the history behind development.
What inspired the concept for the game?
Stream Team: This is difficult to say, I was the one bringing the concept to the team and I must say that I don't really have an idea of where that comes from. At first, it was just the mechanic, I liked the idea of controlling the environment, I wanted to make the player feel like an alien in the world. He controls everything that surrounds him just like if he was an observer.
I'm not too familiar with ENJMIN — what can you tell us about the program?
ST: ENJMIN is a french public school of video game development, we are around fifty students in different majors (programming, game design, sound design, project management, ergonomics and graphic design). We mainly develop games during 2 years, from the tiny two week game maker development to the 6 month AAA prototype. Stream was developed in three months during our first year. It is a great school for developing his own games, we are really free to do whatever we want to do and we also own the IPs which is really important.
Did you always know you would use the black and white art style? Did you ever consider more traditional art direction?
ST: In fact, the idea of white and black art style is more of a post game design decision. We wanted the art and sound to fit perfectly to our gameplay. This is a will that mainly comes from some parts of the book "Half Real" written by Jesper Juul on the contrast between context and gameplay in most of the games today. Most of the AAA games develop extremly complex story, environment and so on whereas the gameplay is really simple, you can basically just shoot, but with the environment you want to climb everywhere and with the story you want to modify it.
Our gameplay revolving around the possibility to shift the surrounding elements or not, it became natural to build the context of the game and the art style around that core mechanic, black and white reflected a certain feeling that we wanted and a perfect contrast, what you can control and what you cannot. Interactions and gameplay oriented the arts and sounds and that makes the game more consistant I think.
There's little narrative in the game — did you ever consider trying to tie in a plot or characters?
ST: This question is problematic and interresting at the same time, yes we don't have an explicit narrative in Stream, what we have is a strong meaning behind the gameplay and context. The more you advance through the game the more it gets darker, the more you succeed the more you feel paradoxically bad and and start to choke. That's not what we can call a story, but there's the story of the player playing the game, what he felt during game play and what he implicitly understood of the environment being binary, cold and not pleasant, contrasting with the likable aspect of the gameplay. So, yes we tried to come up with a story but decided that we'd be better off with a minimalist context just as is our gameplay. I think that this is not a mainstream decision and more of a conceptual one which does not mean that this is the right decision.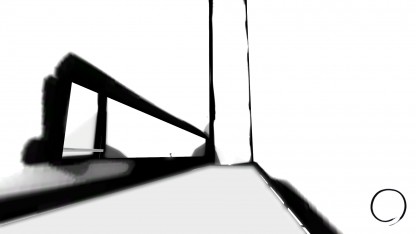 What was the biggest design challenge during development? How did you overcome it?
ST: This game was made for a simple school assignment : "Make a game that lasts 10 minutes, that anybody can play it". So, that, was the biggest challenge, we had to give in 10 minutes the full experience that Stream can potentially gives. In the end, the level design was the biggest part, it was supposed to bring the core mechanics in the right pace and still propose some challenge. We wanted a difficulty/learning curve close from the one of Portal but, I mean, in 3 months and 5 playstests, this is quite impossible.
Will you ever expand on Stream to include more levels?
ST: I wish we could, but we are now scattered in different projects, internships and jobs. At the moment, this is not really our intention to keep working on it and that is a shame. I mean I would love to, but we would need serious motivation to do so. Maybe someday, who knows!
How much coverage have you guys gotten? I've looked around and I can't seem to find much.
ST: The biggest achievement was to attain the semi finals in the indie pub game competition and we had a post on indiegames.com. We were also awarded from a french video game festival (e-magiciens) by an "excellence prize".
I think that, like you said in your post, Stream is not quite finish, it has potential and it deserves better polish. Enumarating our achievements makes me realize that, maybe, we came close to a certain success. Perhaps, we lack a few days of work and reflexions.
Is there anything else you guys are working on that we should be keeping an eye out for?
ST: Yes I think so, for my concern I am working on NewsLeaks (a French site that is being translated in English), this a massively multi-player facebook game where you play a chief editor and manage actual news from actual sources. This is not yet another facebook/social game, we are not doing a -ville like game, we follow Jon Blow ethics and think that games are not rewarding systems but experiencing systems. A beta will be available soon in french and english, although there is no actual release date. The game is part of a contest where everyone can vote for their best projects, the ten selected projects will be reviewed and judged by a great jury composed, among others, of Paolo Pedercini (MolleIndustria).
I also develop Overflowed, a little two player flash game where you have to overflow our opponent with your never ending flow of minions. The release is scheduled around the end of July for XNA (Xblig) and Flash).
Check out my website : http://simonchauvin.com
Thanks, for taking the time to chat.
ST: Thank you for the review and for the interview, we really appreciate it. We will keep an eye on your blog and do not forget to mention it every time we can.
---
---