Mass Effect 2 N7 T-Shirt Review
---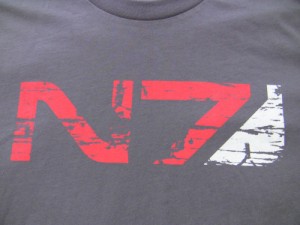 I've been on a tear of all things Mass Effect recently. Consider yourself fortunate that I've pulled myself away from a second play through of Mass Effect 2 long enough to write up some thoughts on a t-shirt. Yes, a t-shirt.
I bought the charcoal colored N7 t-shirt from Bioware. And unlike my experience with the Dragon Age Griffon t-shirt, I actually got what I ordered.
The N7 is an unfathomable balance of badass and geek. The intentionally chipped paint looking N7 logo stamped on the front of the shirt has been a key marketing image for Mass Effect 2 and has become synonymous with everything badass about the Alliance military and Commander Shepard. If you dig on the Mass Effect lore, you recognize how cool one letter and one number placed together can be. For sci-fi geeks and hardcore gamers, the logo alone makes this shirt unprecedentedly cool.
Most of the awesome stops there, however. While both the Dragon Age Griffon shirt and the N7 shirt boast %100 combed cotton, the N7 shirt feels thinner and less soft by comparison. It's not poor quality by any stretch, but if you feel both shirts in your hand it's clear one is superior. Jingoistic as it may sound, I can't help but point out the N7 shirt boasts a "MADE IN CHINA" stamp where the Griffon shirt has an American Apparel tag. At least in this case it seems to matter.
The N7 shirt I ordered was XL (same as the Griffon) but it fits a bit smaller than I expected. Still comfortable and nothing that makes me feel too exposed (nothing worse than a t-shirt too small), but surprising and maybe the smallest XL shirt I've ever worn.
Pros
Honestly one of the coolest logos on a shirt I own
Not distinctly gamer-ish
Massive geek points for a subtle reference to the Mass Effect universe (even if the logo is on the Collector's Edition of ME2, it's still not something the average person recognizes as being ME related)
Cons
The sizing chart might throw you off, at least in the case of XL they seem a bit small
Material quality that, while still quite good, seems inconsistent with other Bioware apparel
Should you buy it?
Depends. If you're a Mass Effect fan in the slightest, yes. Otherwise it's a pretty average t-shirt. Not a bad t-shirt by any means, but definitely hinging on how much you appreciate that impressive N7 logo on the front. For Mass Effect fans it's a sure thing, buy it.
---
---
One response to "Mass Effect 2 N7 T-Shirt Review"