Dragon Age Griffon T-Shirt Review
---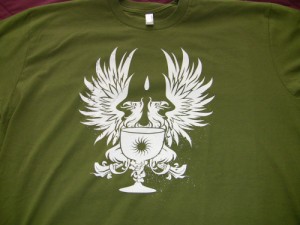 Don't ask me why I'm reviewing t-shirts. I figured no one else is going to do it. And presuming the dozens of product reviews that likely exist on seller websites and other retail sites aren't enough, I've taken it upon myself to waste considerable proficiency with the written word to review a t-shirt. Sue me.
The Dragon Age Griffon t-shirt is sold on Bioware's website and considering I'm a huge fan of all things Bioware (particularly Dragon Age: Origins) I bought one.
The particular shirt I purchased is the olive colored XL. The tag at the collar reveals it's made by American Apparel and proudly let's us know it was made in downtown LA. If buying American means anything to you, there you go.
It's a soft one hundred percent cotton shirt that fits me nicely. I normally wear XL t-shirts and it fits like I would expect. The distinctive griffon emblem is boldly emblazoned on the front and is definitely badass. Underneath the Bioware logo on the back of the shirt is a unique "Join Us" stamp – the marketing slogan for Dragon Age: Origins.
Heads up for those thinking of buying the olive color, I ordered based on the online pictures and I was surprised to find the olive color was a tad brighter than I had expected. I've tried my best to make sure my included pictures show an accurate color, but to be honest it might even be slightly lighter than that.
Pros
American Apparel made; good quality, made in the USA
It isn't overtly video game-ish, it's a cool shirt regardless of the Dragon Age tie-in
Fits nicely
Cons
Olive color is a bit lighter than expected
Should you buy it?
Yes. It comes in a variety of colors and even if you don't know what Dragon Age: Origins is, it's a badass design made by a quality manufacturer. If you're one of those dudes who rocks a t-shirt and jeans a little too often, you might as well wear cool t-shirts like this one.
UPDATE: After comparing my product, my receipt and the images on Bioware's website, it would appear I was sent the green griffon t-shirt, not the olive one I ordered. So disregard my comments about the off color, but replace them with a more serious complaint about Bioware fudging my order. Take it into consideration.
---
---