Indie Game About Sex From "Beautiful Escape" Dev (NSFW)
---
You are, a young male with an unknown sexual disorder captured by some mysterious agency and thrown into a bizarre parallel reality where everything gravitates towards sex. You're set on a sexual quest to explore unknown lands, meet strange people, and learn more about your sexuality.
[dropcap2]I[/dropcap2]t reads unabashedly cavalier, precocious even. As I glance over the description for his next game, I'm reminded that Nicolau Chaud (Beautiful Escape: Dungeoneer) is both honest and novel, perhaps in the most bold way possible. "Become so honest it makes people uncomfortable," I often espouse to fellow writers. Nicolau demonstrates this paradigm exceedingly well.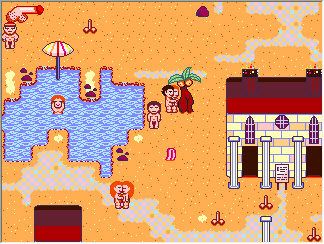 The name of Nicolau's current work-in-progress is Polymorphous Perversity, named after a concept by Sigmund Freud. It's a game about sex. A game in which the objective is to obtain sexual gratification however you can in order to stay alive. The inspiration, Nicolau says, came directly from Freud's observation: "According to Freud, a young child is, by nature, "polymorphously perverse" which is to say that, before education in the conventions of civilized society, a child will turn to various bodily parts for sexual gratification and will not obey the rules that in adults determine perverse behavior. Education however quickly suppresses the polymorphous possibilities for sexual gratification in the child, eventually leading, through repression, to an amnesia about such primitive desires. Some adults retain such polymorphous perversity, according to Freud."
[pullquote_right]"they think rapist and pedophiles and corpsefuckers are sick people, even though their drives are very similar" – Chaud[/pullquote_right]As I read it, my mind immediately starts to reel and then tries to auto-correct. I'm cautious and disturbed in the first few instances after reading, but then contemplative and curious in the next few seconds after that. Nicolau is a psychotherapist with a decade's worth of formal study under his belt. He doesn't make games for cheap thrills around sex or violence. His former games Marvel Brothel and Beautiful Escape both centered on themes, characters and settings that initially made me tilt my head in a stunned kind of skepticism; I was disturbed when I first saw them. In both those games, however, I quickly learned he has an ability to treat disturbing content with a kind of scientific neutrality that dissects the emotional and psychological components and lays them out in front of you so you feel convicted about your own preconceived notions concerning things you may find offensive or uncomfortable. He disarms your uneasiness and outrage with a calm rationality.
Nicolau applies the same kind of frank observation in the themes around Polymorphous Perversity. He proposes three core observations:
Sex is very powerful
Sex is very strange
Sex varies immensely among people
"I just felt like approaching these things in a game. Why not?" says Chaud. "You're right, most people don't know anything about sex other than what their own hand tells them, or beside what they see in standardized porn movies. They like this aspect of sex, while they think rapist and pedophiles and corpsefuckers are sick people, even though their drives are very similar."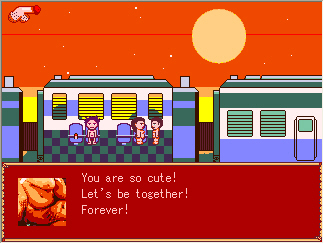 Chaud is being selective about revealing story and gameplay details, but we know that "sex" will act as the battle system in the game where players "fuck" instead of attack. Players can also learn skills like "masturbate" and earn different achievements. There's also a phallically-shaped meter that represents "horniness" and players must battle (have "sex") to keep it from going to high, in which case the character dies.
Naturally, there is already some backlash to the concept. On the forum where Nicolau has posted some screenshots users are already raising objections.  One user writes:
"It looks like a hentaï scenario. Hard to take a game seriously after reading that."
[pullquote_right]"I can't help if people think dicks are funny. I mean… it's just a dick. If you're a guy, just drop your pants and you'll see one."[/pullquote_right]Another adds: "if you wanted to explore the sex theme with "serious", you wouldn't make a game with growing dicks bar and people naked in the train.
That is funny, it's absurd and unrealistic."
Nicolau responds, frankly: "And yes, it may come out funny. Sex is often fun, so I don't see why the game shouldn't be. Sex is not "OMFG SO SERIOUS", and neither should the game be. But I can't help if people think dicks are funny. I mean… it's just a dick. If you're a guy, just drop your pants and you'll see one."
Concerning the cavalier nature of the game, he adds: "That's why I'm using dicks and "fucks" freely. I mean… come on. I know it's uncommon in games but… Is it really shocking? …Isn't it the whole point that people are so TOUCHY about sex themes?"
There's not an expected release date yet, but I'll be sure to pass along any updates/screenshots as they come.
---
---
7 responses to "Indie Game About Sex From "Beautiful Escape" Dev (NSFW)"