Category: Reviews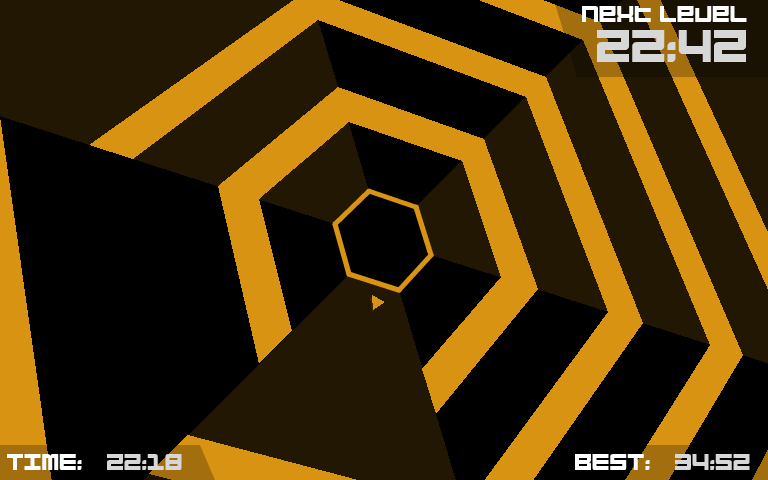 Super Hexagon is difficult, exhilarating, minimal, and enlightening. The controls are uncomplicated, and precise. The visuals are colorful, but basic. The music is symbiotic with the frenetic pace of the puzzling, and progressively hypnotic in the later stages.
The game has one rule — don't touch the spinning shapes twirling inward at you. "You" are a small arrow in the center of the screen. Played on an iOS device, you tap on the left or right side of your screen, and the view rotates accordingly. As varying colored shapes swirl like a whirlpool inward, sometimes in stymieing labyrinthine arrangements, you have to quickly rotate the screen to avoid them. As you progress, the movement of the pieces becomes quicker, their arrangements more complex, the order of arrangements more varied, and with little more than an infectious musical cue, the rotation of the shapes can change altogether.
Super Hexagon is addictive. It's relentlessly hard, but success is exhilarating. Making it even 30 seconds into a game made me feel like a hyper-reactive, clairvoyant, maestro of spinning shapes and a little yellow arrow in the center of this techno-scored, spinning universe. That's likely because I heard the synthetic female voice that ushers you into every game, pronounce, "game over" … Read More »

The Book of Living Magic is a game by Jonas Kyratzes (Alphaland, House at Desert Bridge). It's about a blonde girl named Raven Locks Smith, who leaves a town called Dull for a small village community named Oddness Standing, where a gnarf (a gnome crossed with a dwarf) lives in a bottle, and other strange creatures abound.
It's a short, point-and-click adventure with peculiar setting, and characters. Jonas writes the prose with whimsy, but also detail, such that it dominoes in different paces until it culminates in a way that is absurdly on purpose. It's madness, but deliberate. The effect is humorous, and charming.
The descriptions of items in the static backgrounds are surreal, factually impossible, and often funny.The descriptions of the locations within the Mountains of Oddness, and of its inhabitants, have a stream-of-consciousness quality. The conversations with the locals are equally voluble, eerie, and fun.
The Book of Living Magic reads like a good fairy tell should: whimsical, eerie, thematically bright at times, hinting vaguely at the sinister, dosed with humor that accentuates the strange, and mollifies the darker tones. It's colorful, and fantastic enough to give to a child; it's strange, and sarcastic enough that shades of its themes are … Read More »

Alphaland is a minimalistic platformer by Jonas Kyratzes where players explore a hidden level inside of a game they're tasked with testing by a developer friend. Alphaland starts as a simple platformer, but as you descend this odd, listless lost level the game tips over into a surreal experience that touches on themes of existentialism, personification, reification and death.
Bungie completes the Halo saga, ending it where it all began, and delivering one of the finest first-person shooter experiences ever made
A stylish, hand-drawn, anime-noir RPG with a compelling story of a lone swordsman in a deserted town.
The latest offering from the DC Animated Universe, Batman: Under the Red Hood… it misses on only a few marks, and ends up as a dark, mature, Batman animated feature.
I review the Grey Wardens t-shirt with circle logo from Dragon Age: Origins (from the Bioware store).
I review Tidalis, a puzzle game from Arcen games, and possibly the best indie puzzler I've ever played.
---